The earth is what we all have in common.  (Wendall Berry)
Elementary and Middle School Programs
Forest Adventures (preschool- 2nd grade)
Learn about local wildlife and plants on a nature walk.  Make or paint animal tracks to take home.  Meet some of our live animals up close and personal.
Eco Art (2nd – 3rd grade)
Blends art and nature as students design nature journals with stamps and stencils.  Includes a nature walk and live animal demonstration.
Gold Fever (3rd-5th grade)
Relive a formative period in California's history.  Join the gold miners and pan for gold.
World of the Tongva (3rd-5th grade)
Students are introduced to the culture of one of the early peoples of southern California through stories, art, tool making, and visiting one of their villages.
Water Ecology (4th-8th grade)
Practice the scientific method with water quality testing and search for aquatic indicator (insect) species.
Geology (6th grade; easily adapted to 2nd grade)
Assemble a nine-piece rock collection and learn the basics of local geology.  Builds on the 2nd grade program through introducing additional concepts, such as how the forces of plate tectonics effect geographic formations.
Water Ecology (4th – 6th grade)
Practice the scientific method by testing for four parameters in a mountain stream.
High School Programs
Water Field Lab
Hands-on water quality testing in San Antonio Creek.  Macro invertebrate study can also be included.
Geology Field Lab
A high school environmental studies program utilizing field observation focused on fundamental geologic forces.  Can include assembly of a nine-piece rock board with mineral hardness scale and scratch test.
Chaparral Studies Field Lab
Do the work of a botanist while setting up transects to study the unique characteristics of a chaparral habitat.  Utilizes the principles of biometrics and species diversity.  Combines easily with the water field lab.
San Gabriel Bioblitz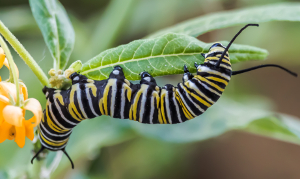 What is this flashy "worm" doing?  A clue – this one is munching on tropical milkweed.  While adult monarch butterflies take nectar from different flowers, the caterpillars only eat milkweed, the monarch's host plant.  So without milkweed, which is in decline due to our increased use of herbicides, the species will not survive.  As John Muir smartly said, each thing is hitched to everything else in the universe.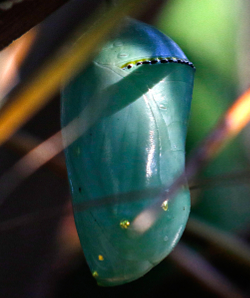 After feasting on the white sappy milkweed the caterpillar attaches itself to something stable and transforms into a chrysalis.  This stage will last from 10 to 14 days.  During the last portion the chrysalis turns transparent revealing the adult butterfly about to emerge.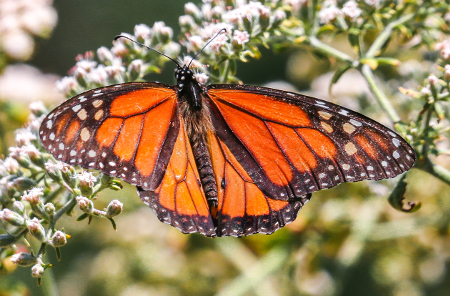 There are two populations of monarchs in the U.S.  Those east of the Rockies undertake an arduous migration to the mountains of central Mexico. Western monarchs travel west to overwinter in coastal California.  To discover if a monarch butterfly is male or female, look for the black spot on the back of each of the male's hind wing.  The one in the picture is a male.
Teacher Resources
Schools Program Brochure 2017-18
Participant Information Mt. Baldy Programs