I sincerely believe that for the child, and for the parent seeking to guide (her), it is not half so important to know as to feel . . . the natural world.  (Rachel Carson)

Elementary and Middle School Programs
Life in the Canyon (2nd-3rd grade)
A hands-on introduction to the plants and animals living in your local foothills and mountains.
Naturalist's Journal (2nd-3rd grade)
Combine science and art! Students will fill a journal with drawings, observations, and art work based on their outdoor adventure.
World of the Tongva (3rd-5th grade)
Students are introduced to Tongva culture through stories, art, and by making a pine needle broom.
World of the 49ers (3rd-5th grade)
Experience what it was like to go west in the 100's to the golden land of California. Pan for gold along the San Gabriel River and learn California history.
Water Ecology (4th-8th grade)
Practice the scientific method with water quality testing and search for aquatic indicator (insect) species.
A River Runs Through It (4th-HS)
Hit the trails on this pack it in pack it out hiking adventure along the West Fork of the San Gabriel River.
That's Not Just a Rock! (6th grade; Can be adapted to 2nd grade)
Assemble a mini-rock collection and learn the basics of local geology.
Field Investigations (6th-8th grade)
Become field botanists as you study and classify chaparral, riparian, pine forest, and sub alpine plant habitats.
High School Programs
Water Field Lab
Hands on water quality testing in San Antonio Creek. Macro invertebrate study can be included.
Geology Field Lab
Field exploration focused on the geologic forces impacting the mountains. Create a rock board while learning about geologic processes.
Chaparral Studies Field Lab
Become a botanist while setting up transects to study the unique characteristics of a chaparral habitat.
San Gabriel Bioblitz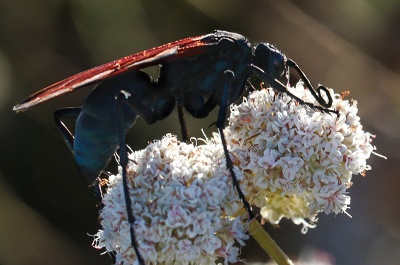 An extra large wasp that pays little attention to humans and loves nectar. What can possibly be the harm in that? Nothing unless you happen to be a tarantula.  While not carnivorous as adults, female tarantula hawks seek out the large spiders, paralyze them with a powerful sting, then drag them to a burrow where they lay an egg on the paralyzed spider. The still-living spider provides the growing larva its nourishment.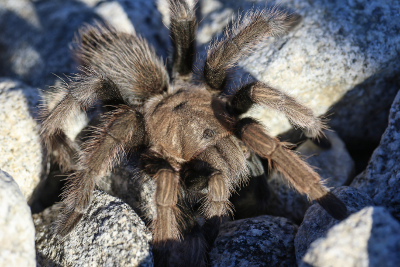 California ebony tarantulas are most often seen during fall months, September through October. That is when mature males, ordinarily nocturnal by nature, go looking for a mate.  Some may travel miles in search of their prize.  This native tarantula is docile and shy, not a threat to humans.  It has the unique distinction of being able to flick spiky hairs from its abdomen at its tormentor when threatened.
Teacher Prep Materials
Participant Information San Gabriel Canyon Programs