The world  is mud-luscious and puddle-wonderful.  (e.e. cummings)
Scout

Badge P

rograms
Need a hand with badge requirements?  We offer badge programs for Cubs through Webelos in Boy Scouts, and Daisies through Juniors in Girl Scouts. Programs include rocks/geology, forestry, wildlife, conservation, and Leave No Trace.  The fee for badge programs is $8/badge. Opportunities exist to complete multiple badges in a single visit.  
Exciting projects await candidates looking for Girl Scout Gold Awards and Boy Scout Eagle Projects.



Group

Outings  

 
A field trip to the mountains can add a touch of adventure to your summer recreation camp or Roots & Shoots calendar.  We create safe, exciting educational adventures for all kinds of community groups.  Contact us, share your needs, and we will tailor a program just right for your group.  And make it an excursion to remember!

Service Projects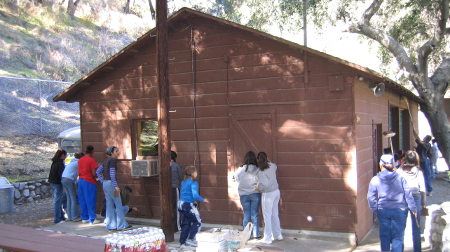 Community service volunteers and corporate assistance provide invaluable support  for our programs.  If you are looking for a service project for your business or community group contact our volunteer coordinator.  Our forest education centers offer a relaxing, inviting atmosphere to work on team building and a real sense of accomplishment after a volunteer work day.  
Tax-deductible financial contributions underwriting educational programs and interpretive exhibits make a lasting impact.

Adult Education

San Gabriel Mountains Heritage Association offers workshops on stream ecology, local San Gabriel Mountains history, and geology to adult groups.  Call or email our programs manager for more information. 
A Special Thank You to Our Teachers